Benefits of membership
There are many benefits to becoming a member of the HFESNZ. This includes supporting you, helping you learn, advancing your career and putting you in touch with other professionals in ergonomics and human factors.
Benefits to members include webinars, a mentoring service, and our specialist technical groups - find out more in our Connect section here.
MEMBERSHIP PATHWAYS
We have membership categories to reflect your level of interest, knowledge, skills and experience, and there are several entry points into our membership pathways.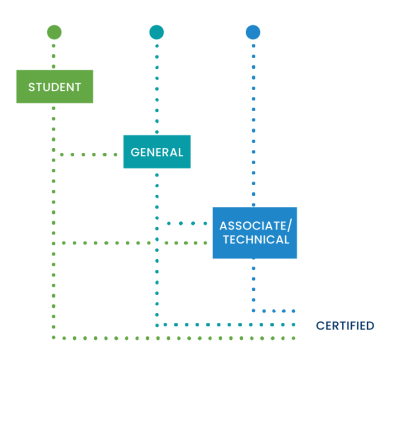 Which type of member are you?
The Society recognises some degree courses as 'Qualifying Courses' which means that on graduation, people with these degrees can apply become an Associate Professional Member. On graduation from any other degree course you can become a General Member. General Members can, with sufficient experience of working in human factors / ergonomics, become eligible to apply to become either a Technical Member or a Certified Member.
Yes, you can apply to become an Associate Professional Member, Technical Professional Member or a Certified Professional Member. You will need a minimum of one year of work experience (or thesis) of human factors and ergonomics for Associate membership; two years of work experience for Technical Membership; and three years for Certified Membership. You must be able to demonstrate narrow but deep knowledge of ergonomics in at least one area for Technical Membership, and a much broader knowledge and experience of ergonomics for Certified Membership. We encourage you to read the information about Associate, Technical or Certified Membership as soon as you graduate.